iSimmer Blog

My Life In France

Julia Child with Alex Prud'homme, 2006, Alfred A. Knopf, Random House, 303 pages. This book is also available as an audio book.

Review by Susan Beach


What a great read for those who love food and cooking! Readers will enjoy the personal insight into Julia Child's life and how she was whisk through a thrilling, yet challenging life. Alex Prud'homme did a lovely job of sharing the details of Julia's life. In gaining this insight I have the utmost respect for what she accomplished in her life, the kind of person she was, and what an impact she had on both professional and gourmet cooking alike. Her passion and curiosity spurred her through life with a zest for cooking, food, wine, and entertaining. she had such a knack for educating others, with an attention to detail that set the standard for "cookery bookery", as we know it today. My Life in France is a must read for anyone who has an interest in America's Culinary French revolution lead by Ms. Child herself. Bon Appetit!

---

Searching for a gift for your favorite cook?

Here are a few suggestions....

Stocking Stuffers

Books for Cook

The Soul of a Chef by Michael Ruhlman (Truly an enjoyable read! I savored each chapter )

The Reach of a Chef by Michael Ruhlman (A follow up to The Soul of a Chef)

Heat (An amateur's Adventures as Kitchen Slave, Line Cook, Pasta-Maker, and Apprentice to A Dante-Quoting Butcher of Tuscany)by Bill Buford

The Omnivore's Dilemma: A Natural History of Four Meals by Michael Pollan

United States of Arugula: How We Became a Gourmet Nations by David Kamp

For the seasoned cook: On Food and Cooking by Harold McGee

For the curious cook:CookWise by Shirley O. Corriher (The chemist who explains cooking)

The Food Lover's Companion by Sharon Tyler Herbst

For the new cook: Joy of Cooking by Irma S. Rombauer, Marion Rombauer Becker and Ethan Becker
---
Whole Grains

Whole grains must contain three components: bran, the multilayer outside, germ, the embryo, which if fertilized by pollen grows into a plant, and the endosperm which is the food supply for the growing plant. Most grains can be found in the bulk section of health food stores and are a great source of fiber and antioxidants. When purchasing grains they should smell faintly grassy. If a rancid smell is detected, they are past their prime. Store in a cool dry place away from light and keep well if refrigerated.

I cook whole grains in a rice cooker with fuzzy logic. (fool proof) First sort and rinse the grains, then place in the rice cooker. Add 2 parts water and salt then program the cooker for brown rice. It takes about an hour but you can go on about your day knowing the grains will be ready when you are. Once the grains are cooked they will hold up to one week in the refrigerator.

Grains are also easy to cook on the stovetop. Follow the same proceedure as above, place in a large pot with a thick bottom. Bring to a boil, cove then turn heat down to low so they simmer for one hour. Stir occasionally and add water as needed.

Kamut is good with a spicy mint/lemon/olive oil/garlic sauce, add tomatoes and cucumbers then serve as a salad.

When cooking rye in the rice cooker, try adding diced onions and sliced mushrooms to make a pilaf. Rye also makes a great salad with its firm texture and nutty flavor.

Spelt is good with fresh Italian herbs, lemon, tomatoes, garlic, sliced olives and bocconcini.

If you cook a little extra of any of these grains they can be warmed with milk (soy or rice milk or even apple cider), vanilla, spices, brown sugar and dried fruits. This will make satisfying winter breakfast. To save time cook the grains up once a week and warm them with liquid as needed. Whole grain oats, rather than steel cup oats, can be treated just the same as the other whole grains, although they do get a little sticker than the others.

Check back from time to time, I'll post some whole grain recipes on the recipe page in early 2007. Wishing you good health and happiness for the new year.

---

Shopping for an Immersion Blender?

When making pureed soups and sauces, the fastest and safest way to blend hot or cold ingredients together is to use an immersion blender. If you don't own an immersion blender, you may ask; "What kind should I get?"

My advice; look for a basic, reliable product that is compact in size. This is a tool that is small enough to be stored in a drawer or under the counter. I'm convinced that one speed models are sufficient when pureeing. Even so, it never hurts to look at the different brands. Amazon.com is one place to research the competition and all the features that are offered. There are many types on the market today, some include additional parts and come in various colors.

It is somewhat overwhelming to make a choice when you see all the different models that are on the market today. I'm impressed with the Cuisinart CSB-76BC Smartstick 200-watt Immersion Hand Blender. Its my pick for preparing small quantities of food for 6 or less. I like the fact that it has a detachable, dishwasher safe, stainless-steel blending shaft with protective guard which helps prevent splattering. It also touts a three year limited warranty and is reasonably priced.

When preparing larger quantities of food, say for eight or more, I recommend the Kitchen Aid KHB 1000OB , although higher in price, it has a 5-foot power cord, choice of four colors, a 8-inch immersion wand, various speeds, ergonomically designed handle, and carries a one year warranty.


Using and maintaining your immersion blender:

Submerge the blender blade in at least four inches of liquid before turning it on; otherwise the liquid might splatter you and your kitchen.
Use caution when blending hot soups.
Avoid melting the blender's electrical cord by removing cooking vessel from the hot stove prior to pureeing.
Never submerge the blender beyond the stainless steel wand; doing so will ruin the motor.
Never run the blades through liquid with hard items, such as ice. Doing so will chip and bend the blades.
Rinse the blades immediately after use since it is more difficult to remove starchy residue once it has dried on. Using cold water to rinse and remove starch works better than using hot.
---
Fig Season

Autumn is here and so are the figs! Devine alone, in salads, appetizers or desserts. These sweet, tender fruits are harvested from a tree with shapely leaves and modest branches. Shown above left to right: Melissa figs are small, round and plump in comparison to other figs. Brown Turkey Figs are large, with purple-brown skin, a long neck and pink flesh. Mission Figs vary in size, are deep purple, and blacken when ripe. These are just three of the many varieties of Ficus carica-Family Moraceae. All are delicious and elegant by nature.

It is believed that the fig is one of the first fruits ever dried and stored by man. And let's not forget how Adam and Eve first fashioned fig leaves. Noted since 2000 B.C., this is one fruit that has its place in history. More recently Mission Figs were first brought to America by the Spanish missionary fathers and planted in San Diego CA in 1759. The missionaries continued to establish Missions throughout California along with the fig tree.

The leaves of the fig tree are beautiful enough to use as a garnish on platters and some people use them in marinades for chicken and quail. Even the wood of the fig tree can be chipped and used for barbecuing to impart a hint of fig flavor.

Just a few cheeses that compliment figs are goat cheese, Point Reyes Original Blue Cheese along with similar full flavored cheeses.Figs are fabulous with baby greens, pecans and a curried balsamic, as in December 2006's recipe in California Soups and Salads. Enjoy the figs while they last, for like all seasonal fruit, they're only around for a short time.

For a simple appetizer: Cut figs in half, stuff them with a chunk of blue or goat cheese, then wrap with a thin slice of prosciutto. Bake at 400 degrees for 10 minutes. Serve with a drizzle of syrupy balsamic.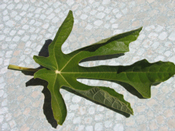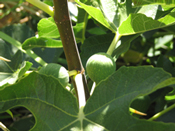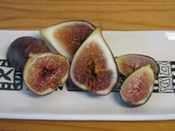 ---
How to Tame a Chile Pepper
Top left to right: California Chile or Anaheim-mild, Habenero-extreamly hot, Thai Chile-hot
Lower left to right: Serrano-hot, Jalapeno-medium to hot, Pasilla or Chile Negro-mild to medium
Some of my recipes include hot peppers, which may not appeal to people with a low threshold for "hot and spicy". Not all foods made with chilies have to add extreme heat to the dish. If you're the cook, then you can control the degree of heat in what you are preparing. Remember with chilies; size doesn't matter, small ones can be more potent than the large ones.
Here's how I control a pepper's heat; first get a read on the pepper you're using. They vary, even when you're working with the same kind of pepper. Once you've cut the pepper open lengthwise, smell it. If you react to its smell, its likely to be hot. If this is the case, cut the quantity of peppers called for in the recipe.
Additional action:
Start by putting on some plastic gloves or use a produce bag as a barrier to protect your skin from the capasin, an oil based compound found in the seeds and veinsof the pepper. This is the stuff that is responsible for the burning sensation we feel when we eat or handle peppers.

Cut the pepper lengthwise, from stem to tip. Use a paring knife to cut out the seeds and veins. The veins are soft, usually light in color and hold the seeds in place. Cutting this out and discarding it will really reduce the spiciness.

Keep the gloves on while you wash your knife and cutting board with warm soapy water before cutting anything else on it. This process washes the capsasin away without leaving you with tingly fingers.
---
A Keen Eye for Morels
By Susan J. Beach, CCP
I acquired my love of morels when I lived in northern Michigan in the early nineties. A morel is an odd looking, wrinkly capped mushroom that blends elusively into its surroundings. They are divine little treats from nature that rank highly among mushroom hunters.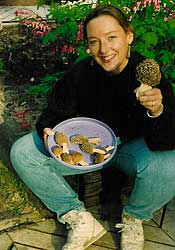 While working as a chef at Walloon Lake Inn, a charming inn near Petoskey, I took a spring day off to visit my mother whose house was tucked away deep in the woods. My mom, with her Master's degree in Mycology, and a keen eye for spotting morels, taught me how to forage for these earthly treasures.
As we made plans for our day over lunch, Mom announced "The morels should be up!" encouraging me to go out on a hunt. "Where should I look?" I asked. "Try under the pine and apple trees," she replied. Those were pretty vague directions for, but enough to send me off on my mountain bike with a collecting basket hitched over the handle bars. I headed toward the wooded trail under a cloudy sky. I followed the trail that ran into a bumpy old railroad bed, but all I saw on the forest floor were dry pine needles and dirt-no morels.
The sky was threatening rain but I was hell-bent on finding morels. Then I remembered an abandoned farm house with an old apple orchard next to it. I turned and headed in that direction. It began to sprinkle as I arrived at the old orchard and hopped off my bike. I searched for an hour in the drizzle, not finding a thing. I heard the rain pick up and felt the big cold drops splattering on my head. I was not ready to give up the hunt.just 10 minutes more I thought.
Suddenly there before me, in a place I swear I'd searched before, was a morel. It was huge, the size of my fist! I danced with excitement and then gripped the mushroom at the base, easing the stem from the rich dark soil. I examined it closely looking for identifying characteristics. I focused on the hollowness of the stem, which continued up through the cap. Just as I had hoped, it was not a poisonous false morel, which has a solid stem filled with cottony fibers. Tucking the trophy into my basket I eagerly searched for more. My eyes had adjusted and I quickly found a cluster of four, then three more scattered around the trunks and roots of the trees.
I presented my trophies to Mom, who was tickled with the details of the hunt. After snapping a picture, we decided that I should take them back with me to show David, the Inn's owner. The largest morel weighed 12 ounces so David placed it on display in the dining room. That night at the menu briefing I announced that I would prepare my morels as part of the staff meal. "Count me in," they replied one by one.
After service I retrieved my harvest and began dicing the mushrooms into bite-sized pieces, soaking them in salt water while I julienned some wild leeks, also called ramps. I set a medium sauté pan over a high flame and ladled a bit of clarified butter into it. I scooped up the morels and let the water drain through my fingertips, then tossed them into the hot butter along with the ramps. They sizzled and hissed as they hit the pan. After sprinkling them with a healthy pinch of kosher salt and some freshly ground pepper I moved the crinkly chunks around, flipping them up in the air and catching them with the pan. I added some rich brown stock, then rocked the pan back and forth to marry its contents. I lowered the flame a bit and reduced the sauce while I fetched a spoon. As I scooped up a spoonful of sauce and held it before me, steamy vapors curled toward my nose and I inhaled the rich, earthy essence of mushroom. I took my first taste of the shimmering sauce and let it roll over my tongue. Content with the sauce, I proceeded to assemble the meal of roast chicken with morel sauce, wild rice, fresh asparagus, and lemon. "Pick it up! Your dinner is served!" I piped as I lined up the plates in the pick-up window.