Welcome! I hope to create community among folks who enjoy good food and cooking. People are always interested in trends, what others are preparing, and how. I'm certain there are kitchen tales out there that readers would love to read. Please join in the virtual potluck and share your stories with others about food, agriculture, and cooking. To submit a short story click on chef's choice and fill in the fields. Jpegs are welcome too. Check out the other submissions while you're there!
Bon Appetit!
Susan Beach
---
Bio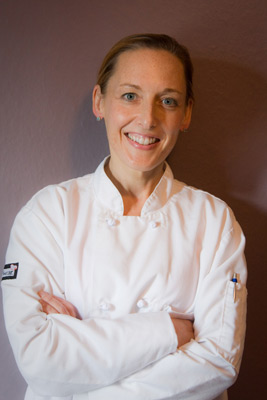 Susan Beach was selected as a finalist in the Kikkoman/Johnson & Wales Recipe Challenge with her Warm Peach-Ginger Upside-down Cake served with a Green Tea Peach Coulis. She competed in February 2006 with six fellow alumni, at the Johnson & Wales, Miami FL campus. She graduated from Johnson & Wales in Providence RI in 1984 with a degree in Culinary Arts . Two of Susan's soups Cauliflower Soup with Gruyere Cheese, and Carrot Soup with Swiss Cheese have been featured in the San Jose Mercury News, Home Plates column. The same column published her recipes for Cherry Scones with Coconut and Ginger, along with her recipe for Peach Ginger Jam, which appeared in the August 9, 2005 edition.
Susan joined the International Association of Culinary Professionals in 2005, becoming one of 250 distinguished Certified Culinary Professional, world-wide. She recently celebrated her tenth anniversary as the executive chef at the Center for Advanced Study in the Behavioral Sciences, a think-tank tucked in the hills of Stanford, CA. This is where she prepares mid-day meals for 60-100 distinguished academics from around the world.
A few years ago, Ms. Beach entered the Johnson & Wales Bacardi Rum Recipe Contest, submitting her Bacardi Gold Pumpkin Ginger Tart with Caramel Rum Sauce. She was chosen as one the ten Johnson and Wales Alumni finalists to compete for $25,000 in prizes at the 6th annual Bacardi contest in the Dominican Republic. She was interviewed on live radio about the Contest, which aired on Jennifer English's, Don't Talk with Your Mouth Full Business Talk Radio KAKC 1300, New York.
Susan learned the secrets to professional food styling while attending the Culinary Institute of America's Greystone campus. She did some work in food styling on photo shoots for publishers such as Williams-Sonoma Kitchen Library Cookbooks (Soups, and Risotto) as well as the Wine Spectator Magazine. Susan has also used her skills to cater private functions throughout the Bay Area.
While living in Travers City Michigan area in the early 90's, Susan opened a Bed and Breakfast with her mother. Her success as a chef was highlighted in the Travers City Eagle with articles featuring the B&B and her work at a local up-scale restaurant. After two brutally cold winters however, she returned to the comfort and diversity of San Francisco.
Susan originally moved from Pennsylvania to San Francisco, CA in the late 80s' after working at various restaurants and hotels in the Gettysburg and Lancaster, Pennsylvania area. Among Susan's other achievements she used both heart and soul, working as the head chef at Project Open Hand in San Francisco where she prepared meals for over 2,500 people a day, serving the home bound and people with AIDS. At this pivotal point in her career, she gained a wealth of knowledge about California and ethnic cuisines from a diverse staff of employees, volunteers and well-known chefs from local restaurants. Susan's recipes immediately began to reflect the influences and flavors that surrounded her.
iSimmer Blog

<

>